ImCloud Intelligent Cloud Management Platform (DCN Intelligent Management Cloud)
As an application and data service channel, the data network will become larger as the network nodes gradually increase. Wireless networks in scenarios such as enterprise, shopping mall and supermarket chains, hotel chains and general education may require thousands of APs. To ensure an unobstructed channel in the network, IT professionals are needed, which results in increased O&M costs (operating and maintenance costs). ImCloud 8260 Intelligent Cloud Management Platform, based on Cloud technology, presents a new network service model. With Cloud technology, DCN ImCloud makes managing complex networks a simple, smart and visual practice, and enhancing users' network experience. With DCN ImCloud, users can achieve advanced network management and deployment even without IT knowledge.
Benefit
Multi-system integration, on-demand scalability
Integrating AC, Authentication and Network Management
ImCloud (DCN Intelligent Management Cloud) is an all-in-one cloud management platform integrating wireless authentication, management and control, featuring easy management, convenient maintenance, large capacity and high performance. The platform can implement network wireless equipment management, organization management, user account management and authorization, real-time data collection and control and carry out various network strategies, turning the entire educational network into an easy-to-use, maintain and expandable network.
High data processing capability
Based on a highly efficient dual core operating system and the whole unit is capable of managing 10,000 APs, 10,000 concurrent users and more than 500,000 registered users, it is able to meet the needs of single user multi-concurrent terminals under large volume user and high concurrency application environments in Metropolitan Area Network .
Linear Function Scalability
Function modules can be scaled linearly according to the demands of managers and can vary with the management plans of managers at different levels.
"Green Man-machine Interaction"
Intuitive Interface Operation
With an intuitive web "interface" design, ImCloud can assist administrators in user management, organizational structure management, equipment management, administrator management, authentication settings and network configuration.
Function Modularization
Function modules are scientifically designed so that they have high independence with weak inter-module coupling, easy to understand and operate by users.
Windows Style Design
The operating interface is Windows style which is easy to operate. With solid functions, it is easy to understand and operate, facilitating users with fast installation and convenient use.

User Friendly Management Features
Easy to Implement, Manage and Maintain
The wireless AP can realize plug-and-play function, and the AP zero configuration and management, control and configuration of AP equipment is carried out by the platform; so that there is no need for network management personnel to independently manage and maintain a large number of wireless APs, and all configurations, firmware upgrades and security strategy update actions can be completed through the wireless controller, helping administrators realize the rapid deployment of wireless equipment.
With various numbers in the system, administrators can clearly understand and maintain network status, network page configuration, organizational structure configuration, use status statistics, fault diagnosis, and alarms for better management and maintenance of wireless networks.
Centralized Management and Hierarchical Implementation
ImCloud is capable of providing hierarchical management based on organizational structures and adopting centralized management and hierarchical deployment for networks with total shard structure.
The headquarters can implement centralized monitoring of network equipment, wireless users and branch unit network status through a well-established organizational structure, and uniformly carry out the overall wireless network configuration, uniform upgrade of the entire equipment, unified user identity authentication and page authentication issuance.
Management levels can be set depending on different organizational structures and are classified by the central office administrator.
Decentralized Management
To reduce management pressure at the head office, all functions are subject to decentralized management. The head office administrator must appoint the function management authority of various branch administrators by the head office administrator to realize centralized supervision while the branch can independently view and edit the local network and users.
Built-in Flexible User Authentication
Smart Terminal Identification
Intelligent terminal identification supports IOS, Android and Windows intelligent terminal operating systems and adaptively pushes WEB authentication pages suitable for terminal screens, freeing users from repeated dragging and screen adjustments, and providing users with a smooth online experience.
Multiple Authentication Modes Flexible and Secure
Among other things, it supports Portal, TXT, We Chat, QR Code, Pre-shared Key, MAC and other authentication modes.
Built-in Authentication Server, easily realize WEB Authentication
The internal Portal server can store the most user accounts; WEB authentication does not require additional Portal Servers and Radius Servers and wireless user local authentication is easily accessible, resulting in simplified network deployment and reduced network construction costs.
Perception-free authentication and Enhanced User Experience
Wireless user perception-free authentication is built into it: After the first successful authentication, no authentication "interface" will appear the next time the user logs in, eliminating repeated input of account numbers and passwords; meanwhile, the system can automatically and intelligently recognize the user's identity to ensure network security; besides that it will also be more efficient and flexible with authentication free duration subject to different requirements.
Flexible Visitor Authentication Management
Perfectly built-in visitor management system which has fully taken into account user industry demands and customized rich, convenient and secure visitor management mechanism.
Official QR Code Authentication
Quick account opening for office visitors; visitors can enter by scanning the QR code.
QR Code Authentication for Meetings
Fast opening of a wireless network for a large number of participants at once; participants can enter by scanning the QR code.
Authenticate by SMS
To login via SMS verification code, floating population is used to open a temporary account.
Wechat connection to Wifi authentication
Fast connection to wireless network via WeChat account.
One-click authentication
It can thus provide visitors with a fast authentication mode, and can push inert pages.
Perfect Wireless Network Features
Intelligent RF Management
ImCloud can auto-adjust power and channel by optimizing RF range with custom RF inspection and RF management algorithms. When the AP signal receives a strong signal interference, the system can automatically switch to the correct working channel through the AP automatic switch, to avoid interference and ensure the smooth communication of the wireless network; in addition, it can also support the black hole compensation of the wireless network; when the AP stops working inadvertently in the network, AC RF management will help compensate for signal blind spots, secure operation
Usually, wireless clients choose APs according to signal strength, which without proper control will inevitably lead to a situation where the particular AP with the highest signal strength is overloaded by a large number of client accesses. The more clients, the narrower the bandwidth for each Client and the worse the network the users will have. DCN wireless products can realize flexible intelligent load balance:
– Supports flow-based AP load balancing;
– Supports user number based AP load balancing;
– Supports frequency band based AP load balancing;
– Supports terminal signal strength-based access control;
– Supports user number-based CAC (Call Admission Control) and guarantees access
high-priority terminal and application bandwidth;
– Supports forced cruise control on terminals and guide terminals connected to APs with stronger signals.
Security Guarantee
Ø Support wireless intrusion detection and intrusion prevention
ImCloud not only supports illegal wireless equipment detection, intrusion detection, blacklist, whitelist, and other wireless intrusion detection and wireless intrusion prevention features, but also anti-DoS attacks for various wireless management messages, improving the security management of the entire wireless network.
Ø Support AP secure access mechanism
APs are generally used in public areas, requiring strict security mechanisms to ensure the validity of the equipment being accessed.
Ø Real Name Audit
Provides a standard interface, can adapt to mainstream behavior management products in the industry, meets real name audit requirements set by "Order 82" and minimizes significant WiFi information security risks.
Manajemen Seluler APP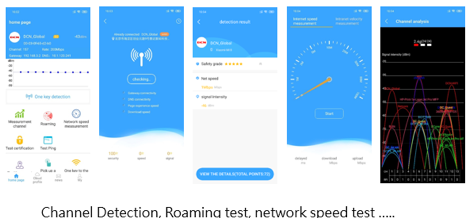 One-click detection
ImCloud transforms virtual and complex wireless networks into compact graphics, so non-professionals can get customized data from wireless networks. This ensures fast identification and elimination of problems and improves the user experience;
Wireless toolkit: Wifi analysis, ping test, flow test
ImCloud can detect wireless network environment, connectivity, and wireless flow through wireless devices;
AP position reporting
ImCloud lets users complete the tedious job of collecting wireless AP positions in simple steps. This ensures install-as-you-go, reduces time costs, effectively guarantees response speed for subsequent network maintenance, and indirectly improves wireless network quality. The executor needs to scan the AP barcode with the APP on his mobile phone, enter information regarding the position, and report it to the public cloud platform to complete the function of reporting information on all AP equipment, organizational grouping, and installation position;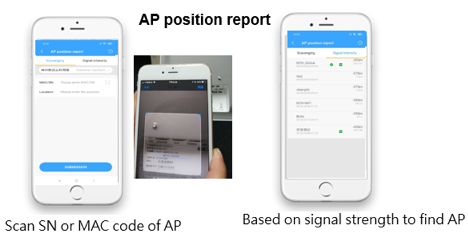 Wireless dotting detection
After wireless installation and debugging, ImCloud evaluates and records the wireless quality. Users can obtain and record information about wireless quality in a convenient and fast way via the mobile phone and its graphical "interface". During daily use, all users can quickly obtain and record wireless conditions through scanning and dotting the application;
Mobile terminal notification error
The manager's authorized administrator can receive cloud notifications about the status of air conditioners, APs, switches and other devices through the APP, thus facilitating timely failure handling;
Spesifikasi
Item
ImCloud 8260
Basic Performance
Maximum Number of APs That Can Be Managed (set)
10000
Number of Manageable Base APs (set)
32
AP License step size
16, 32, 128
Maximum Number of On-line Simultaneous Users
100,000
Default Local Authentication Account
500,000
Number of VLANs
4096
Number of SSID
500
Wireless Basics
Wireless Protocol Specification
802.11 802.11a 802.11b802.11g802.11n802.11ac802.11h
Wireless Management Protocol
Support MAN, LAN, and internet group network with AP
AP can be "discovered" and access automatically
AP can update software version automatically
AP can download configuration automatically
User Roaming Switch Time
Less than 30ms
High Reliability
Supports 1+1 fast backup
RF Management
Support country code setting
Support manual/automatic setting of transmitted power
Support manual/automatic setting of work channel
Support automatic adjustment of transmission rate
Support RF environment scan, AP scan around RF environment information while working
Supports monitoring and avoidance of wireless RF interference
Supports 11n preferred RF strategies
Support 20MHz and 40MHz channel bandwidth configuration
Support timing "interface" air protection in hybrid terminal access state 11abg, 11n and 11ac
Fair scheduling of terminal based air time "interface"
Frequency spectrum navigation (5G preferred)
User online detection
Automatic aging without user traffic
Barrier client access from weak signal
Required roaming from weak signal in client terminal
Access Authentication
Account Authentication
Supports user and password based portal authentication
Authentication
Wechat
Support WeChat by connecting wifi authentication mode
Authorize QR Code Authentication
After connecting to the wireless network, a QR code page will automatically appear in the terminal. Visitors can have internet access by scanning a QR code with their mobile phone;
Conference QR Code Authentication
Prior to the conference, a QR code will be generated according to the type and number of visitors and the time of visit. Visitors can use the internet service by scanning the QR code
One-click authentication
Users can have access to the internet by clicking on the authentication page without entering the account
MAC authentication
Mac address authentication based on different wireless networks
Authenticate by SMS
After entering his mobile number, the visitor receives an SMS with a password. Then, he needs to enter the password to apply authentication
Perception-Free Authentication
When implementing authentication for the first time, visitors must enter their username and password. When reconnecting to the internet within the specified time limit, visitors do not need to enter username and password for authentication.
Order Information
Model
Deskripsi
Imcloud 8260
ImCloud intelligent cloud management platform, 5 gigabit ports +
2 PCIE slots (4 expandable 10-gigabit SFP+ ports) +
2 USB ports + 1 console port + 1 network management port;
built-in 64G msata, 16G DDR4 memory; basic management
of 32 authorities;
ImCloud-2XS
10-gigabit expansion card
DCWS-L32
Integrated smart controller special upgrade license
DCN wired (including 32-set AP upgrade license)
DCWS-L128
Special upgrade license of integrated smart controller
DCN cables (including 128-set AP upgrade license)
SCC-F-SMS-1000
SMS package, including 1000 sms authentication license